Thanks to the increasing number of viruses, trojans, spyware, keyloggers, and ransomware, your computer is at constant threat whenever you log on to the internet. Forget about running infected executable files, even an innocent action like visiting a website containing malicious code can infect the data inside your computer.
Although there are many companies offering anti-virus solutions, hardly a small percent of them offer programs whose signatures update automatically to combat new threats as soon as they appear. Expecting an anti-virus program to defend you against other malware is not fair as these programs can only protect your computer against viruses. This is why you need a program that, apart from protecting your PC against viruses, safeguards it against malware attacks too.
Bitdefender — Your Computer's Guardian
To safeguard your computer against all types of online threats, you need a robust and time-tested program like Bitdefender. Founded in 2001 by Florin Talpes, Bitdefender is a Romanian anti-virus and cybersecurity company. This company offers two variants of security programs among others: Bitdefender internet security and Bitdefender total security.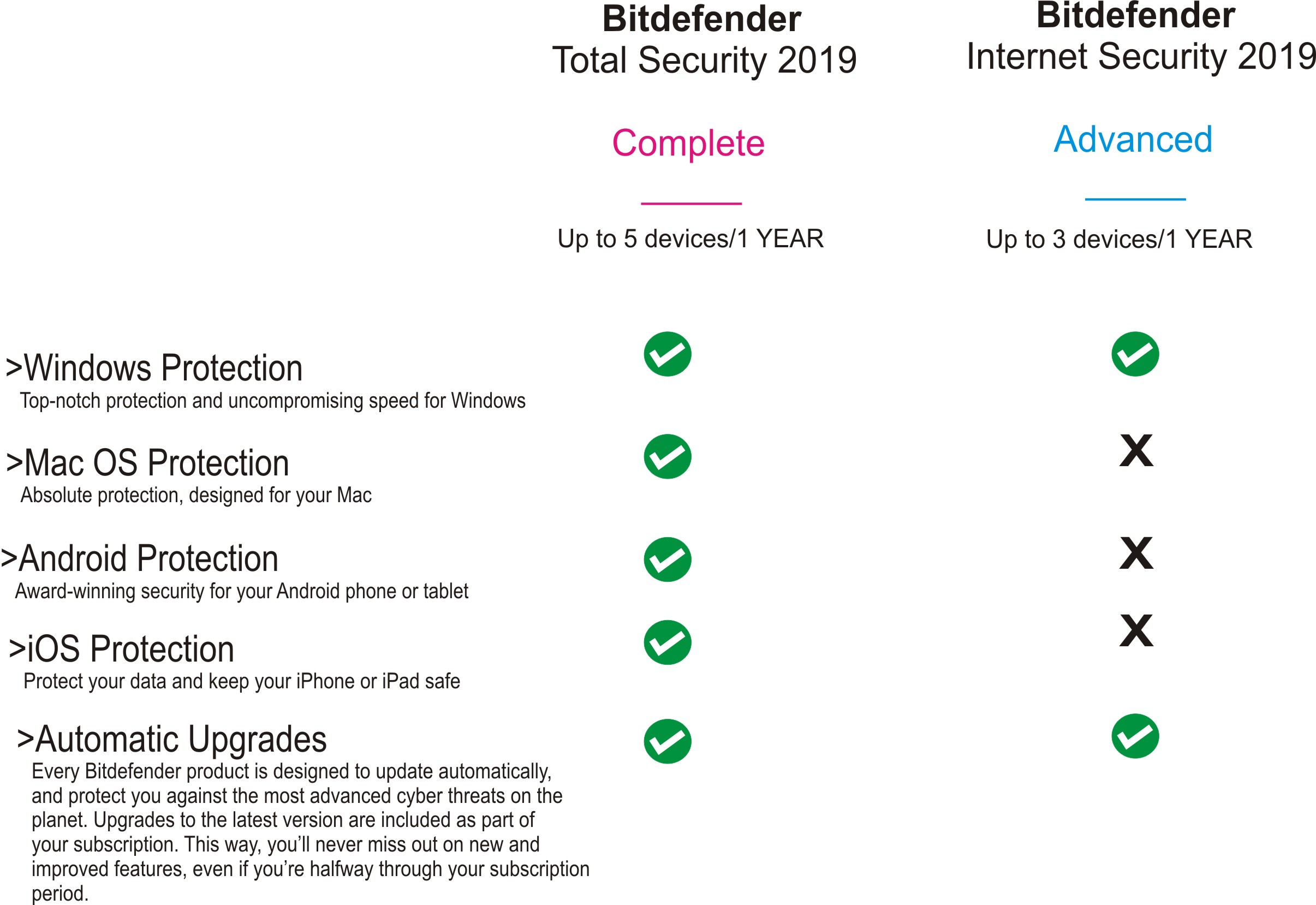 The name itself should provide you with a clue as to which of these two is better and provide more security to your PC. Let us check the different solutions provided by Bitdefender Internet Security and Bitdefender Total Security so that you can determine which one is most suitable for you.
Before proceeding further, here is a case study conducted a couple of weeks ago on a computer that had the leading antivirus installed on it. Bitdefender total security was installed on that PC, its signature was updated, and the hard disk drive of the computer was scanned. Bitdefender was able to detect nearly 100 security threats that the other anti-virus program was not able to. Most of the security threats were pirated software and keygens used to activate them. Had the user installed Bitdefender on his PC, he would not have had to face this shocking dilemma.
Let us find out the differences by comparing Bitdefender Total Security vs Internet Security. Here is an in-depth comparison of the two programs offered by the Romanian internet security company.
Bitdefender Total Security vs Bitdefender Internet Security
Make no mistake. Comparing Bitdefender Total vs Internet Security is a tough task indeed given the fact that both of them are unarguably the best security programs available. However, there are some differences between both of them. But first, let us highlight the similarities between the two.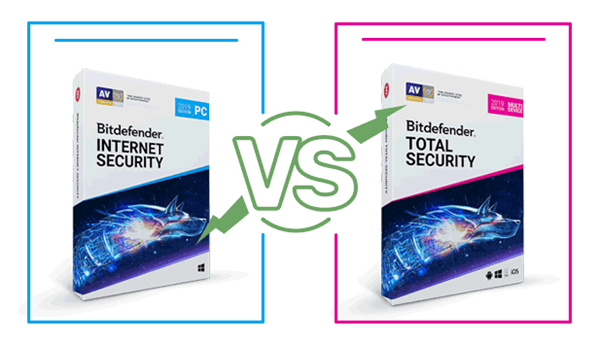 How Are They Similar?
Features Included in Both
Having won many awards and accolades from reputable computer magazines like PC Mag, PC World, PC Magazine, as well as from reputable independent security software testing laboratories such as AV-Comparatives and AV-Test, the Bitdefender Internet Security and Bitdefender Total Security have a much higher rate of detecting virus and malware when compared to their nearest rivals. Apart from providing the best protection against infection, they do not bog down the speed or performance of the computer they are installed on.
Here are some of the features that make both programs stand miles apart from the rest.
Total real-time protection of data
The 2019 edition of Bitdefender Internet Security and Total Security provides you with real-time protection against malware. They protect your PC from all types of security threats such as spyware, rootkits, zero-day exploits, ransomware (aka cryptoware), trojans, and worms. They protect your PC against viruses too, so you do not have to invest separately in an anti-virus program. Both versions of the Bitdefender software are leaders in protecting your privacy and data.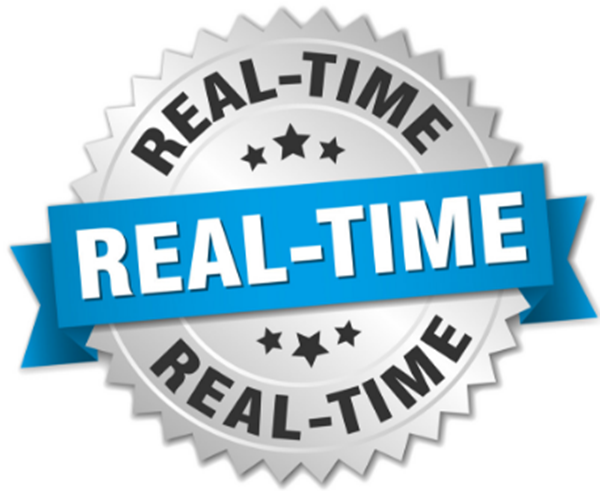 Anti-ransomware
Although the previous versions of these programs had the ability to detect ransomware, the company has improved the detection algorithm. The multi-layered approach against ransomware in the new versions incorporates a data-protection layer, which protects your music, videos, pictures, documents, and other data against all kinds of ransomware attacks. This, together with the "Advanced Threat Defense" module prevents ransomware from encrypting your most important files.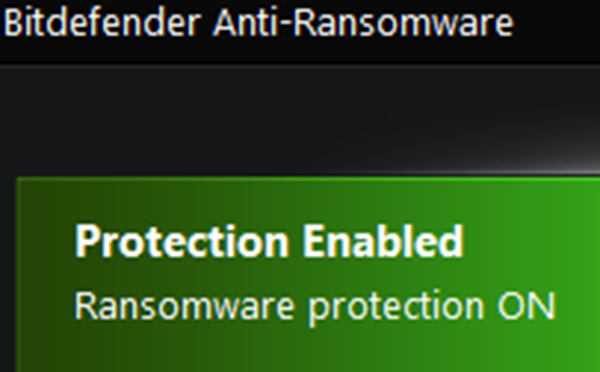 Advanced Threat Defense
They both use a special technique known as behavioral detection. In simple language, this processes and monitors the executive files of active applications closely. The software takes instantaneous action to protect your PC against infections the moment it detects any suspicious behavior.
Anti-phishing
Be extremely careful of sites that impersonate as trustworthy sites such as your bank, online megastores, etc. These sites gather your login information and much more, and use this data to steal your credit card numbers or bank login details. Bitdefender Internet Security and Bitdefender Total Security are able to detect such sites and provide you with a warning or even block you from accessing them.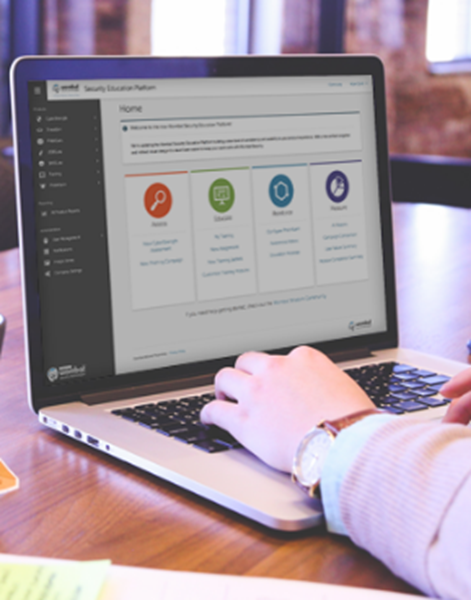 Parental Control
This feature allows you to keep track of your child's activities on the net. This feature also allows you to set the time your kid can spend online. You can use it to password protect sites inappropriate for kids, making browsing safe from them. The mobile version of Bitdefender also allows you to know where your kids are with the help of GPS tracking. You can even allow or block contacts from texting or calling your kid on their mobile.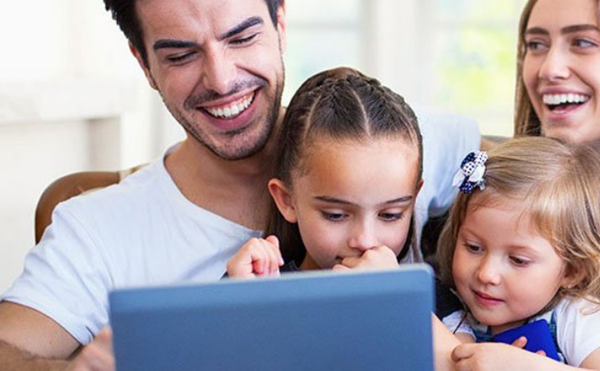 File Protection
Imagine the scenario if malware makes changes to your important files. Set the file-protection system of these security programs to prevent alterations to your valuable files. This feature also blocks malware and ransomware from making changes to your files. Simply add the folders containing the data to the watch list and Bitdefender will guard them. Only applications you have total faith in can open these files.
Safe and Secure Online Banking
Shop and bank using a dedicated and unique browser that prevents fraud by securing your transaction. The Safepay feature allows you to fill credit card information in billing fields automatically. Safepay also includes a virtual keyboard. You click on the onscreen keyboard with your mouse pointer to enter important text such as username and password. This option prevents keyloggers from capturing your keystrokes.

Battery Mode
This intelligent and useful feature is a lifesaver for tablets and laptops as it protects their battery life by temporarily altering system settings like Bluetooth connectivity, system updates, display, and system cooling.
File Shredder
Are you aware that data you delete from your computer leave traces, which can be recovered with the use of recovery software? The File Shredder tool deletes the selected file permanently without leaving any trace.
Webcam Protection
This handy tool protects your privacy by preventing webcam leaks. It informs you the moment an application tries to gain access to your device's webcam without your authorization and allows you to block access to the webcam.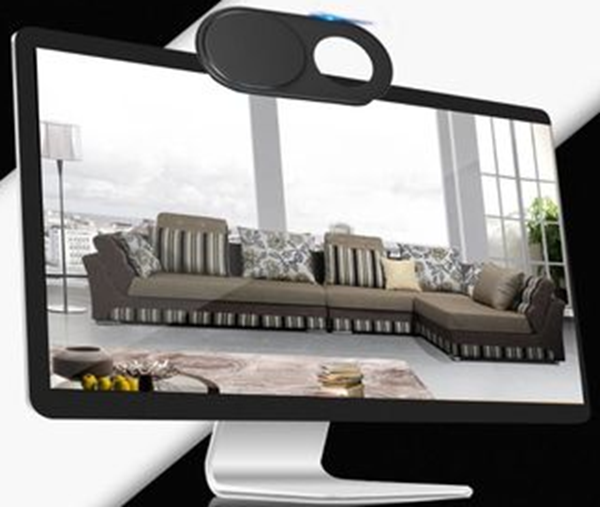 Global Network Protection
To prevent an impact on your computer's resources, the majority of heavy scanning takes place in the cloud. This improves the performance and speed of your PC. Remember, neither Bitdefender Internet Security nor Bitdefender Total Security scans the contents of your files or upload and store them on the cloud.
Autopilot
Bitdefender has re-coded the Autopilot so that it acts as a security adviser. The best part is that it provides you with recommendations about security actions you need to take in the context of your usage patterns and system requirements.
Password Manager
This feature permits you to secure your sensitive data such as credit card information and passwords, etc. in a cyber vault. You can access these details as and when you need them. This feature also offers you the option of auto-filling online forms and also suggests secure passwords.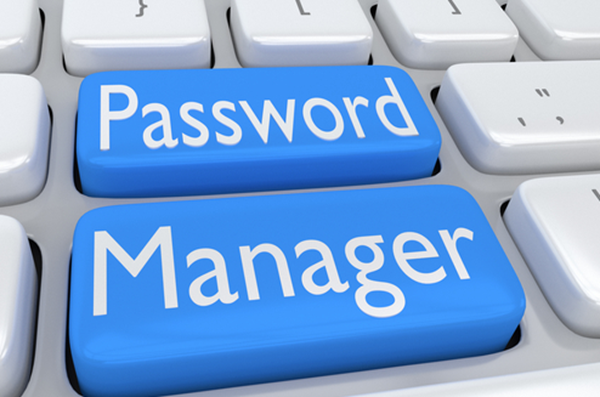 Other important features include:
• Social network protection
• Privacy firewall
• Vulnerability assessment
• Work, movie, and games mode
• VPN
• Rescue mode
• Bitdefender Photon
The Differences
Bitdefender Total Security – Includes Additional Features
If you still want to purchase the "Total Security" version, keep on reading to find out if you require Bitdefender Total Security or Internet Security. Apart from having all the features in the "Internet Security," this version also includes multi-device protection, anti-theft, and device speed up. The last option allows you to speed up your computer using tools such as Disk Cleanup, Startup Optimizer, and OneClick Optimizer.
• OneClick Optimizer
This removes junk (.tmp files and others no longer required), cleans the registry, as well as private information in the cache of your device's hard disk drive.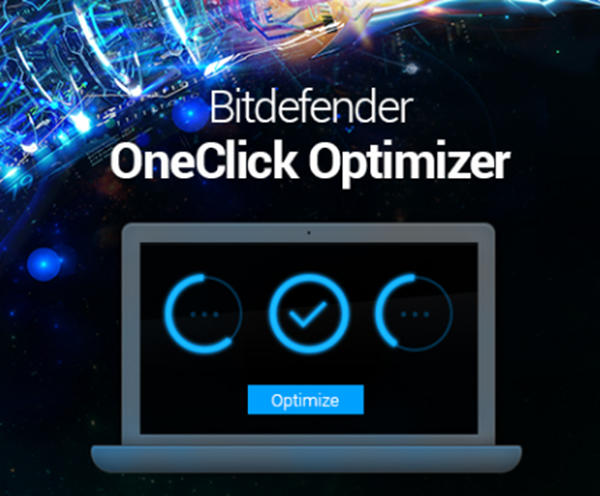 • Startup Optimizer
As its name suggests, this allows you to boost the bootup time of your computer by disabling or delaying programs that launch during startup.
• Anti-theft
The device anti-theft option allows you to locate your device remotely and even allows you to lock the data on your device's hard disk drive or delete it. You need to access the Bitdefender Central account to use this option. This feature is ideal for tablets and laptops. The software performs the blocking/ deleting task as soon as the person using the stolen device logs on to the internet with it.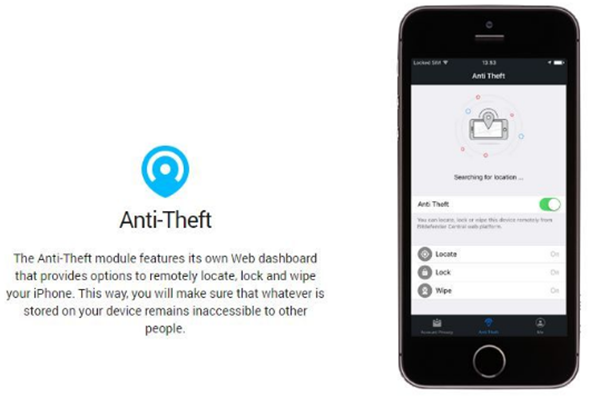 • Multi-device Support
This awesome feature of Bitdefender Total Security allows you to install this security program on iOS, Android, Mac, and Windows devices. You no longer need to purchase different licenses for different devices. To activate the application, add your license to your Bitdefender Central account, and log in using this account on the applications. Remember, you can only use one device at a time unless you have purchased the multiple device license.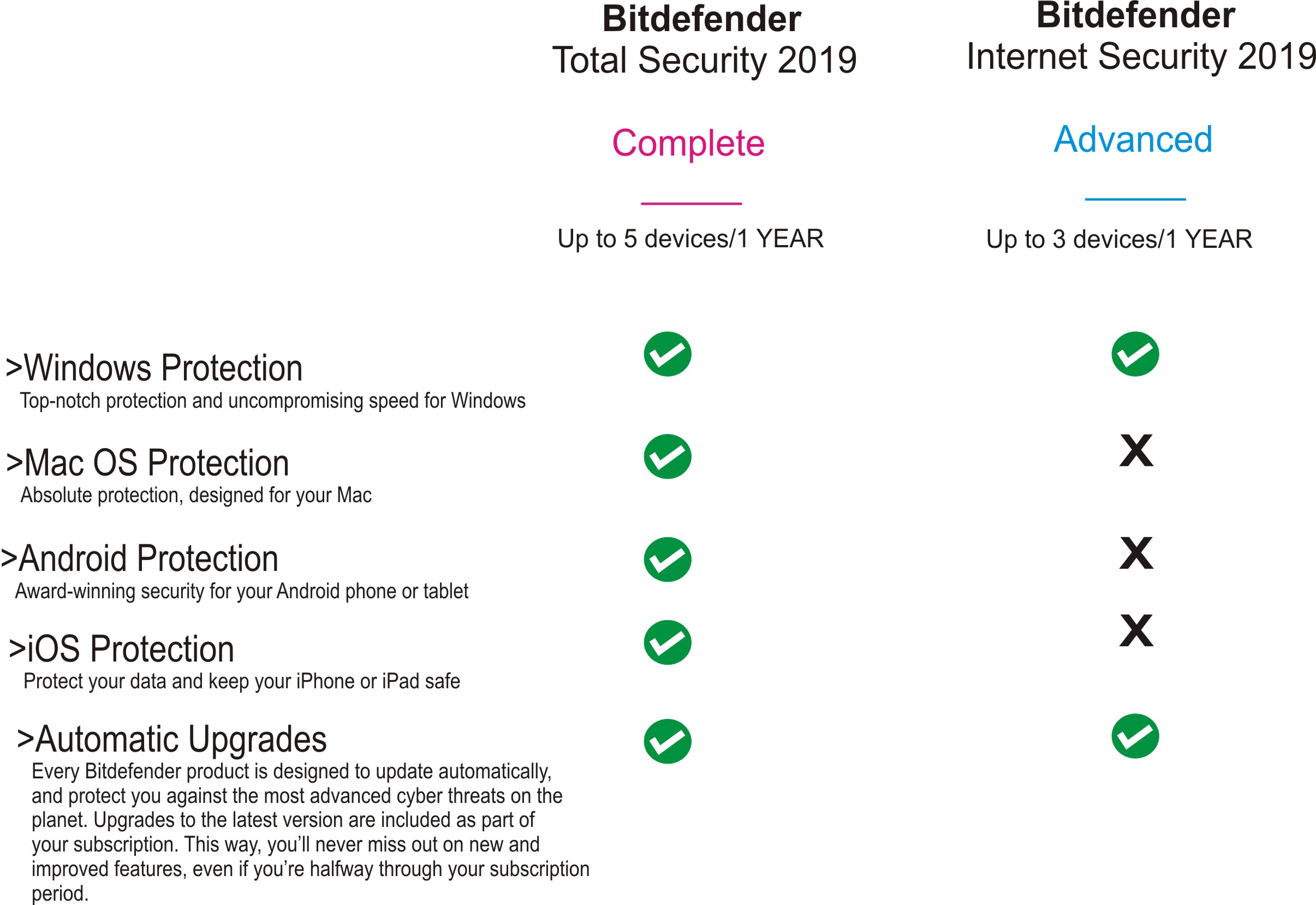 Price?
Be prepared for a pleasant surprise in case you are wondering about the price of Total Security vs Internet Security Bitdefender. A one-year license for the latter costs $79.99 (up to 3 devices), whereas it is only $89.99 (up to 5 devices) for the former. You can often get all these at a discounted rate. Therefore, it makes sense to purchase the "Total Security."